Eternal LIFE or Eternal DEATH – What will it be for YOU???
---
God is ALIVE and still on the THRONE!!!
---
---
JESUS is the KING – and He Wants YOU in His Kingdom!
---
---
It's NOT about RELIGION – It's about a personal  RELATIONSHIP with JESUS the Messiah.
---
---
The ENEMY wants you to Worship MAN and NOT GOD – This will lead you HELL for Eternity.
---
---
There is only ONE way to Heaven – JESUS.
---
John 14;
5 Thomas said to him, "Lord, we don't know where you are going, so how can we know the way?"
6 Jesus answered, "

I am the way and the truth and the life. No one comes to the Father except through me.

 7 If you really know me, you will know

,

my Father as well. From now on, you do know him and have seen him."
---
Salvation is in JESUS ALONE.
---
This is How you receive salvation.
---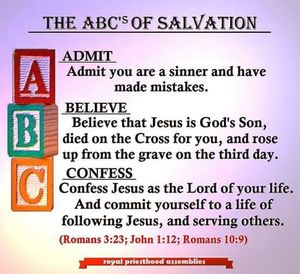 ---
ACTS 16;
25 About midnight Paul and Silas were praying and singing hymns to God, and the other prisoners were listening to them. 26 Suddenly there was such a violent earthquake that the foundations of the prison were shaken. At once all the prison doors flew open, and everyone's chains came loose. 27 The jailer woke up, and when he saw the prison doors open, he drew his sword and was about to kill himself because he thought the prisoners had escaped. 28 But Paul shouted, "Don't harm yourself! We are all here!"
29 The jailer called for lights, rushed in and fell trembling before Paul and Silas. 30 He then brought them out and asked, "Sirs, what must I do to be saved?"
31 They replied, "Believe in the Lord Jesus, and you will be saved—you and your household." 32 Then they spoke the word of the Lord to him and to all the others in his house. 33 At that hour of the night the jailer took them and washed their wounds; then immediately he and all his household were baptized. 
---
PLEASE, consider your eternal existence,
LIFE or DEATH.
---
John 17:3.
This is eternal life, that they may know You, the only true God, and Jesus Christ whom You have sent.
John 6:57.
As the living Father sent Me, and I live because of the Father, so he who eats Me, he also will live because of Me.
John 8:12.
Then Jesus again spoke to them, saying, "I am the Light of the world; he who follows Me will not walk in the darkness, but will have the Light of life."
---